Dr. Lavanya Kannaiyan:
Consultant Paediatric Surgeon & Paediatric Urologist
Dr. Lavanya Kannaiyan is a young, dynamic Pediatric Surgeon, located in Hyderabad, India. She completed her MBBS from Sri Ramachandra Medical College, Chennai and went on to do her Masters in General Surgery at Kasturba Medical College, Manipal. She further super specialized in Pediatric Surgery from the renowned Christian Medical College in Vellore. She has been a practicing Pediatric Surgeon for the last eight years and currently works as an Assistant Professor of Pediatric Surgery at Niloufer Hospital for Women and Children.
Dr. Kannaiyan has been awarded DNB (Gold Medal) in General Surgery in 2005 and is a member of the Royal College of Surgeons, Edinburgh (MRCSed).
Her special interest is in Pediatric Urology, which constitutes 70% of surgical problems faced by children and has completed a year's training in Pediatric Urology at the world famous Miami Children's Hospital, Lavanya's other areas of interest are Neonatal Surgery (Surgery for new born children) and Pediatric Laparoscopy (minimally invasive surgery). She also is keenly in helping children with chronic illnesses following reconstructive surgery for congenital problems. Children continue to face long term issues regarding continence after bowel and bladder surgery. They require guidance and tools to help them live as normal of a life possible.
Dr. Kannaiyan has several articles published in national and international journals and has presented numerous papers at National and International conferences. She has been a recipient of the prestigious UC Chakraboty award for best paper at IAPSCON 2012. She loves to travel and is an avid reader with interests ranging from ancient history to world cuisine.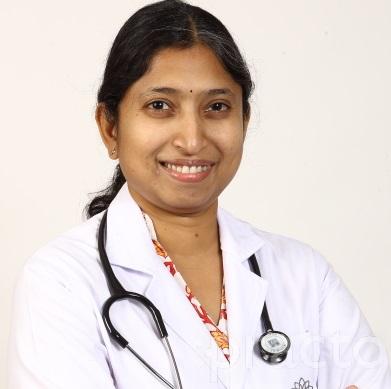 Qualifications
MBBS Degree from Sri Ramachandra Medical College and Research Institute, Porur, Chennai
MS(General Surgery) from Kasturba Medical College, Manipal
DNB (General Surgery) Gold Medalist
MRCS Edinburg
MCh(Pediatric Surgery) from Christian Medical College, Vellore
Awards and Publications
UK Chakraborty award for best paper at the 38th IAPS Annual conference held at Bhopal
Best CRRI award of year 1999 with NPV Ramaswamy Udayar Gold medal Award
Gold medal for DNB
Gold medal in Anatomy for being first in university exam at SRMC.
Ramesh K Reddy, lavanya Kannaiyan, Srinivas Srirampur, ramani Malleboyina, Gulam Mohammed Irfan, Hariprasad Sharab, Srinivas Kannepalli, Thoracic Fetus in fetu.J Indian Assoc Pediatr Sur. 2012 17 (4) P. 178-179 DOI:10.4103/0971-9261.102344
A study of 523 cases of Hypospadias operated between 200-2006. Oral presentation at 34th IAPS Annual congress at Guwahati 5th Dec- 7th dec 2008
A study of 523 cases of Hypospadias operated between 200-2006. Oral presentation at 7th TPPS Annual meeting at Vellore, Tamilnadu 10th July- 12th July2008.